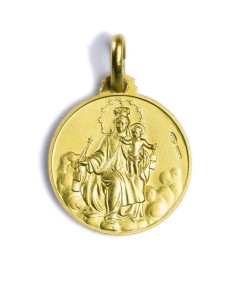 Scapular medal sterling silver gold plated
A scapular (from Latin, scapula, "shoulder") is a religious pendant of cloth worn under the clothing, which are usually adorned with the picture of a saint as a part of Roman Catholic devotion. 
Since 1910 it has been permitted to substitute a medal for one or more small scapulars. This medal must have a representation of Jesus Christ with His Most Sacred Heart on one side and an image of the Mother of God on the other. All persons who have been validly invested with a blessed woolen scapular may replace such by this medal, which is commonly called the Miraculous Medal.
At your request we will bring it to receive the Blessing from the Holy father
At your request we will bring it to receive the Blessing from the Holy Father